What Sets the Tiara Poodles Apart
Top Ten list of what we do and do not do for increased longevity in raising our dogs holistically:
1) We feed a raw food diet and superb supplements. We always feed fresh food - no kibble (3 generations)
2) We give purified water only (6 generations)
3) Thorough health screenings are completed and publicly registered on breeding animals (6 + generations). Click here to see all 50 Tiara CHICs!
4) NO heartworm or flea preventatives are given or placed on our dogs EVER (7 generations)
5) NO "pit" shot given to dams after whelping, as is automatically done by many dog breeders
6) Puppies here are NEVER given food supplementation/bottle or tube feeding to artificially assist in their nurture. They are never weaned before a full four weeks of age. They are then weaned directly to the same raw food diet as is fed to their dam. No dairy or grain products fed here ever for three generations. One should ask why breeders feel compelled to try to improve upon nature - or are their bitches so deficient, that supplementation/bottle feeding is necessary for the whelps to thrive? How could one think to improve on Mother Nature's formula?
7) No internal parasites noted in our puppies today - NO WORMING needs to be done to the puppies or dogs - laboratory fecal analysis run regularly (2nd generation worm free)
8) Our puppies are reared "underfoot" and join in our household with all the other Poodles. By their 8th week birthday, puppies go along with the adults to our grooming store and delight in being groomed WEEKLY. This is the care that Poodles deserve. We groom with holistic products and never use force air drying on our dogs. This is very unique care among Poodle breeders and further illustrates our loving consideration for our Poodle friends.
9) Our dogs are our housedogs, but just as well they love to travel! We take them all along to shows, camping, picnics, etc. No one needs to stay behind and miss out. This adds joy to our lives as well as the Poodles' lives. Poodles are the happiest and thriving to their fullest, when their family is together and enjoying life.
10) Vaccinations are not given before 16 weeks to puppies kept here in our care. After that age, an initial Parvo inoculation is given separate from any other vaccine. The Distemper, also given by itself, is then administered after three weeks time and the process of the two separate vaccinations is repeated three weeks after that. Adult dogs are vaccinated by our holistic veterinarian for rabies only.
---

RAISING YOUR STANDARDS – Julie Borst Reed –
TIARA STANDARD POODLES
New Poodle Review columnist, Julie Borst Reed of Tiara Standard Poodles, has been involved with Poodles her entire life. The Poodle Review Magazine is one of the oldest breed publications, is mailed internationally and is printed bi-monthly. This is an introduction to Julie in a review of what has shaped her views in Poodles and brought her to become the columnist for Poodle Perspectives. Perhaps Perspectives in Poodles would have been a better column title for Julie's Poodle topics, but Julie jokingly mentioned that she does not mind being a Poodle's interpreter. "I truly understand the language" she is often commenting when meeting a Poodle for the first time.
Julie and her husband, Kirk Reed are hard working, dedicated Standard Poodle Breeders with definite goals in mind. Health screenings achieved and registered are a prerequisite to assist producing avoidable conditions and to keep record for today and the future. The Reeds of Tiara Standard Poodles challenge other Poodle Breeders to accomplish at least the basic CHIC health screenings always before breeding. They are currently breeding the sixth (consecutive) generation of Tiara bred, CHIC-designated Standard Poodles. The Reeds place great concern on increased/maintained longevity averages in their line.
Holistic care has been implemented since 1995. These breeders are currently feeding the third generation a raw diet, very successfully. New owners are encouraged to rear their dogs the same and there is an extensive network or "clan" as they refer to themselves of the Tiara Poodle owners. Litters have been named alphabetically since the first litter in 1976 and that is a bonus for communication among anyone concerned with the line.
Public education is a primary focus and new fanciers are encouraged to become involved in dog sports. The Tiara Poodles are very athletic and can be seen competing and winning in several agility organizations throughout the United States.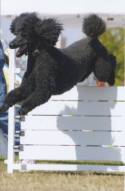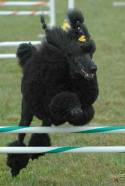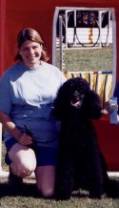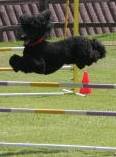 Aires in CA AKC/Laura in NJ NADAC/Julie & Lovey CA UKC/D Lord in MN USDAA/D'Aire in CA AKC
Above is a small sampling of the dogs in competition with their owners. The reason for selecting each of these dogs on either side of the center picture of "Lovey," (who is now retired), is that they are all her offspring. To note: all these dogs are also fed a raw diet.
Coefficiencies of inbreeding (COIs) are produced at under 6 % for 10 generations at Tiara. In this spring 2007 picture below, are two outbred daughters (7 and 5 yrs old) on either side of their average (highly) inbred dam (12 yrs old). The Reeds have rarely found type lost when outbreeding. An unrelated Latvian sire was introduced, who is sire of dog on left. A blending of miniature and standard pedigrees produced the dog on the right. Each of these daughters' inbreeding is calculated to be 0% for at least 10 generations. The dam's inbreeding is at about 20% COI (the current average for Std Pdls in N. America in 2007).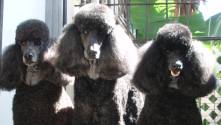 BIMBS GRCH Tiara Zanita, Tiara Karisma, Multiple BIMBS GRCH Tiara Frappuccina
Julie is a fourth generation dog breeder and recalls well growing up as her grandmother's sidekick helper and main dog entertainer at Edlehugh (Poodle and) Boarding Kennels in Dauphin, PA. Julie's grandmother, Edna (McHugh) Collins, now 92, has a book, Dog Stories that just came out in private printing Jan. '07. "I can also remember the Poodle Review coming to the house back then in the Sixties," Julie comments. Julie's grandmother started in the dog fancy with Cocker Spaniels in the Thirties and changed over to Poodles in the Fifties. Julie's mother worked very briefly with Toy Poodles of her own, but was always helping out in both her mother's Edlehugh kennels and then in Julie's Tiara kennels. Julie opened her Kennel in Newville, PA when she graduated from high school in 1976. She then moved to California in 1985 and sold the dog boarding business to her mother.
Julie with Gran-Ellen So Lovely in 1965
"Vickie" a beloved pet and champion producer


Ch Eaton Elaboration and Julie in 1980
Each winning their first set of major points
at the Lehigh Valley Kennel Club
Julie continued raising and showing some very successful standard poodles for the next decade to culminate in the co-breeding of the wonderful, Ch Kaylen's Cadillac Style with co-breeder and handler Kay Palade (Peiser). Julie had participated in most of the 22 PCA Nationals between the final national show held at Bryn Mawr where she cheered on the famous champion Debauchery to Best of Variety -to the final PCA held at Ludwig's where a dog sired by her stud Tuxedo (and out of a former National Best of Breed winner) was Winners Dog. That show was just too hot for man or beast, Julie tells and Julie left the grounds after the 9-12 puppy dog class due to the threatening heat. Julie relays that she thinks it is wonderful that PCA became a climate controlled show and as a member, she is absolutely thrilled the show is moving back two months to an April date in 2008. It is hoped that she can again attend now without threat of intense heat/humidity. "After watching the weather in April this year with snow flurries falling in the region of the Maryland shore (site of PCA), I don't think we will worry about heat," she comments in 2007.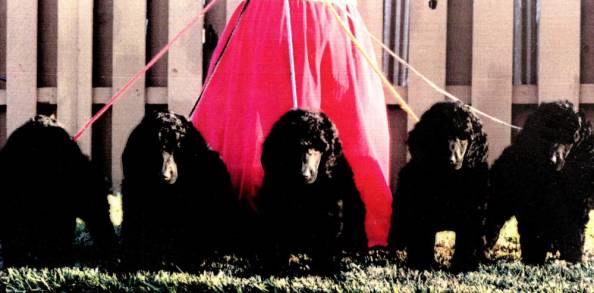 The December 1986 Tiara T Litter were all showdogs. Ch Tiara Tuxedo is on far left and appears in the Tiara pedigrees. He is also the maternal grandsire of Cadillac, pictured in a full, ground-covering trot below.

It is hoped by Julie that some year the national show will be more centrally-located and at least in closer proximity to an international airport. "I'm glad for the improvements made in the last dozen years and hope more improvements along the lines of pet safety and care are initiated by the national club. The overuse of dye and hairspray on the Poodles' coats in the AKC rings is an absolute insult to this magnificent breed. Certainly it has to be, someday, that the dogs and the breed will come first and foremost and dogs with multiple missing teeth, for instance, will be penalized and dogs without good hair will not be MADE by busy hairdressers," Julie said from her heart. Julie is also a columnist on occasion with The Dog Press and has publicly applauded the idea that the Best of Breed competition at the National should be of the best dogs to be considered for breeding and the idea of qualifying for the class by obtaining CHIC designation would seem to be a very basic prerequisite. She hopes for this to be implemented at the Poodle Club of America National someday in the near future.
It was just after that last visit with old friends at PCA, that Julie was introduced to the computer which helped with the in depth interest in pedigree study. Before that, in 1991, a lovely apricot dog had been born in the predominantly black line. When people were asking over and again, "Where did that come from?" and there was no immediate answer on the available pedigrees, Julie began what she thought was a Sunday morning venture into pedigree study to determine the answer. What she learned about, was the intense inbreeding of the gene pool in standard poodles as she followed one direct line behind her hero, the champion Debauchery. She began recording by hand from Poodles in America for several Sundays. The results showed over 200 crosses to a dog born in 1922 named Clown Von Rapallo. The apricot answer was easy and was looming right around the second generation behind Debauchery. The rest of the inbreeding story was short of appalling and Julie feels no doubt that those that continue to produce such high inbreeding have never truly studied the pedigrees. The absolute worst thought is that some of the old timers have lived through and witnessed these breedings and now see the results, but past having Dr Armstrong speak at the PCA health seminar just before his death, little if anything has been done to point out the importance of maintaining/rebuilding a more diverse pedigree base for Standard Poodles.
The quest for less related standard poodles was on and the worldwide web was the catalyst. Just after Julie met Dr John Armstrong on-line, he told her she was probably going to run out of Standard Poodle candidates to maintain an ultra low inbreeding ratio that could be of great value to the gene pool in the future and that she and others should consider inter-variety matings for their lines. "No way," Julie reports she first told him. "I'm not breeding like that; I am going to find unrelated genes in standards of good looking dogs with health screenings." She found a few of those standards, but many were too advanced in years to reproduce. Dr Armstrong had been correct. It took four years of diligent search to locate two unrelated, fully health-screened miniatures to incorporate.
At first, Julie says that it seemed desperate to take her handsome Poodle line this route. She reports feeling that something had to be done to rework the foundation of the dogs she was producing if she indeed wished to be breeding Poodles successfully for another 30 + years. Julie only wishes Dr Armstrong would have been able to meet the fine characters of the miniature/standard combinations, as he sadly passed just before they were achieved.
With the glorious Cadillac taking the top spot for all AKC Poodles in 1996, a childhood goal had been achieved for Julie. Next goal set was to rework the foundation pedigree to be more diverse at Tiara. The challenge flag was tossed down by Dr Armstrong in '98, when he told Julie, "You bred a #1, now do that again with a low COI dog." She says, "I accepted that challenge and we are working on it!" The beautiful Tiara Frappuccina did win the breed over 361 other Standard Poodles in UKC competition in 2006. This feat set a huge record and also made this lovely 17 inch Poodle number one Standard Poodle in the UKC for 2006. We all realize the UKC is not the AKC – each have their pluses and minuses – the goal, Julie assures, is a low inbred AKC #1 as challenged by Dr Armstrong.
Julie fancies many breeds of dogs and is a member of several different breed clubs, but owns only Standard Poodles. She has been an AKC Jr Showmanship judge since 1979 and has just renewed her goal to become an AKC Poodle judge. She credits Poodle Breeders Rebecca Mason, Mary Peacock, Elizabeth Campbell and John Fowler in addition to geneticist professor, Dr Armstrong as her mentors over the years. Julie has been on the board of directors of the Harrisburg KC, The Chambersburg Area KC and now the Temecula KC. Julie was the first AKC Public Education Coordinator for the Del Sur KC and is currently fulfilling that role with the Temecula KC. She has been a member of the San Diego Poodle Club since 1985 and the Poodle Club of America for just about as long. Julie has worked as an office manager for a veterinarian's office and an animal control officer, but has mainly been involved with the dog grooming profession non-stop for over three decades. Primarily, her job day in and day out is to care for her Standard Poodles and maintain a dog grooming store. She has been a professional groomer since March 1974 and has owned the Dapper Dog, a holistic pet care store in La Jolla, CA, since 1992. She and Kirk met in 1998 and were married in 2003 – yes, a Standard Poodle was the ring bearer.
Newlyweds Julie Ann Borst and Kirk Stephen Reed


Ring Bearer Tiara Karisma


Squaw Valley Chapel April 1st, 2003
Olympic Valley, California where it began snowing during the ceremony & kept snowing for four days!
At the turn of the millennium an older, tested, unrelated dog from Latvia, accepted by the Canadian Kennel Club where he lived, but not accepted in the American Kennel Club, has directed the Reeds to competing in United Kennel Club events where that line of their dogs is permitted to compete in the United States. There too, they have participated in weight pull and agility and made friends in rare breeds. "Just two more generations needed to be born in Canada and that line can go forward in the United States' AKC," Julie says while rolling her eyes. "That wouldn't be so bad", adds Julie, "but we live 20 miles from the Mexican Border!" She looked down with a sigh, "The things Breeders must do to follow their goals; and it isn't as if we don't have the DNA proof on these dogs or that they are not Poodles!" They are some very, very great Poodles.

UWP, GRCH Kirley Alatiara Clarabella
competing in a UKC weight pull event


GRCH Tiara Obla-di, Obla-dah, her son.


"We really have fun with the dogs when we travel in our motorhome with the whole gang!" Julie says about her activities. "Kirk and I enjoy exploring historic places along the way to or from shows and if some wine or beer tasting rooms are noted along the way to the show, we often take an extra day coming home to sample tastings. We enjoy our great friends made through the dogs, many types of music/dancing, skiing, gourmet foods and of course - studying about dogs! Kirk is a hobby sailor, competing from time to time as a foredeck crew hand for ocean yacht racing. We have part ownership in a sailboat, but I get sea sick, so I only do bay sails! The most fun hobby for me, outside of dogs is our classic car collection of one!"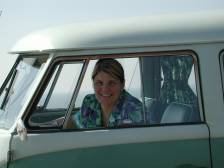 Since 1976, TIARA STANDARD POODLE puppies have graced the homes of discerning poodle lovers. At TIARA high quality is maintained, with only t

hree

litters produced on average per year and a record of 50+ AKC championship, obedience or agility titles achieved.

Julie Borst, breeder, takes pride in her expert comprehension of the variety. A lifelong association with the breed combined with intensive study, Julie has produced the current TIARA pedigrees which compile the top dogs of the world. Her affiliation with Elaine Robinson, DVM, of Lemerle Poodles has helped strengthen the pedigrees by

initiating the

outcrossing and is deeply appreciated by Julie, as the stud dogs of Lemerle ha

d

been used extensively at TIARA

in the nineteen-nineties

. Elaine has competed with the poodles of Britain and Australia and shares her insight of those pedigrees. Both breeders are members of the Poodle Club of America.

Ch. Oakwind Time to Burn, UD, AX, JH obtained 24 titles by 4 years of age. He was the first poodle to achieve the junior hunter title and is the sire of the TIARA "S"

2

litter. TIARA looks to the future with plans to maintain the high intelligence, elegance and field ability that make a real Standard Poodle. Incorporating the Oakwind influence has proven to enhance stability necessary for field work. Special recognition is given here to the fine selection of competitive poodles by Oakwind breeder and trainer Jaci Bowman of Wisconsin.

We have worked to achieve a line still today from this mating.



In 1996, the #1 Standard Poodle USA was "Cadillac" bred by Julie Borst and Kay Palade of Florida. It was a very proud moment at TIARA, as his dam and her parents were also bred by TIARA. This line, as all the pedigrees at TIARA, goes back to the Eaton poodles of the 1970's.



Study of health issues including training and feeding methods and vaccination schedules are priority concerns at TIARA STANDARD POODLES. Implementing the certification organizations such as OFA, CERF for screening of the most common genetic defects of the variety has benefited dogs and owners alike. Make certain when you are investigating a breeding program that the certifications have been made on the parents and grandparents of the litter or dogs offered, as is always done at TIARA. Learn about the importance of having generations of designated CHIC-qualified relatives at the www.offa.org website. T

IARA

puppies are professionally profiled at 49 days of age for personality traits. All this study produces a healthy, well-adjusted puppy with a high innate willingness-to-please and true poodle character. TIARA STANDARD POODLES are superb with children.

Now breeding only very black poodles and maintaining

an

excellent gait and adaptable, easygoing temperament. TIARA POODLES are loved throughout the world by the people they greet in person or through their offspring. Puppies sold on AKC and/or UKC limited registration, US $2600.00. These are finest quality family pets. Private terms available on older trained and tested poodles.
u u u u u u
Inbreeding and Diversity in Standard Poodles may be studied at: The Canine Diversity Project.
A coefficiency of inbreeding (COI) reached of 25% is as if you bred a brother to his sister. Black Standard Poodles in North America are approaching 22% as the average COI for the population. Tiara Standard Poodles would like to request the world Standard Poodle breeders to be aware of this unfortunate circumstance. COI figures are based on 10 generations. Please forward any unrelated black pedigrees to be considered for import by eager USA Standard Fanciers.

We have bred our litters with less than 6% COI to improve health and longevity in the variety. John Armstrong of The Canine Diversity Project has stated, "In general, the average poodle inbred < 6% will outlive those inbred over 25% (10 generation calculation) by about 3 years."




TopSiteList