Don't be a victim of an Unethical Breeder – STUDY!
Top Ten Topics (and more) to Learn
The following are questions that you should ask a breeder before buying a Standard Poodle. Use this as a tool to make the very best and educated decision about your new Standard Poodle. Please consider using a copy of this pamphlet to interview several breeders. Questions relate to genetically transmitted diseases and anomalies. If discussing these items over the telephone or in person, the Breeder's answers should be direct and come easily without hesitation.


This questionnaire outline was originally produced by the Board of Directors of the Versatility in Poodles (VIP) association. Tiara Standard Poodle Breeder, Julie Borst Reed, has been a long-time member in good standing of VIP. This information has been posted publicly by Tiara Poodles since VIP first made this outline available to be printed in pamphlet form. Our answers are published, not to "show-off," as someone once wrote to us, but to educate the buying public about the basic questions one should know in shopping for a Standard Poodle.
Today, there are many health tests that should be accomplished on dogs that are going to be considered for reproducing and these tests should also have been done on many of their relatives; primarily those in the immediate pedigree. The good as well as the bad results should be seen. There are no perfect dogs, but it is a good Breeders quest to try to achieve such a creature. Learn below what questions you should have answered by a quality dog Breeder offering Standard Poodles.

Breeder's name, address and phone number:


Julie Borst Reed, Kirk S. Reed, Tiara Standard Poodles
By Appointment
5514 La Jolla Blvd. , La Jolla ( San Diego ), CA 92037-7611


phone 858-488-9500
e-mail info@tiarapoodles.com
website: www.tiarapoodles.com

Price of puppy:

$2600.00, plus CA state sales tax. Puppies sold on limited registration and go to new homes between 8 & 10 weeks of age. Older puppies on separate terms when available.

Date this pamphlet first posted to Tiara Poodles website 11/17/98 Date of last edit: 5/08/08

Question:
1. Have the dam and sire had their eyes tested per the Canine Eye Registration Foundation (CERF) criteria? This is to be accomplished regularly; checking for cataracts and other hereditary eye diseases (once each year for breeding animals). This testing is done through a licensed, board-certified veterinarian – NOT just the regular veterinarian, as it takes additional training to be qualified by the Canine Eye Registration Foundation (based through Purdue University ). A thorough, specialized, eye exam (test) by these board-certified veterinarians is the only one that counts for eye test registrations. The eye test results will appear on the CERF website if the breeder and/or owner of the dam and sire have paid the nominal fee to have the eye test results registered with CERF. Additionally, once the dog has any other testing (hips, thyroid, SA, etc.) registered with the Orthopedic Foundation for Animals (OFA), the eye test results posted at CERF, will automatically post onto the OFA database page for that dog too when the other health information posts. This information noted above is free for anyone to check via Internet.

Answer from Tiara Standard Poodles:
Yes, for 6 generations+ we have CERF eye certifications accomplished. Good shoppers, of any breed of dog, should request the AKC # of sire and dam from the breeder of the litter in which they are interested in purchasing a puppy OR the exact spelling of the sire and dam's names. Type the exact name or number in at http://www.vmdb.org/verify.html where it says on-line verification and see the certification info. Eye CERF exams are also accomplished for all Tiara Standard Poodle puppies before they go to their new homes. The eyes are tested by a board-certified veterinary ophthalmologist when puppies are 7 weeks of age. Certifications are mailed into the Canine Eye Registration Foundation (CERF) within a month of the exam. Owners can check the link above to see their puppies listed as well as over half dozen generations of relatives behind their Tiara Standard Poodle who have been CERF examined and certified.


If answer above is yes, ask if the grandparents had also been regularly tested or has any blindness occurred in any of the relatives of the sire or dam. Ask for exact spelling of the sire, dam and their parents' names so that you can verify the answer of "yes" on line at the database noted. If answer is no, decline buying their puppy.

2. Have the dam and sire's hips been x-rayed for hip dysplasia?

Answer from Tiara Standard Poodles:
Yes, and so have most of the dogs in their pedigrees for 6 generations+. If you have exact spelling (and/or AKC #) of sire and dam, go to www.offa.org and see the certification info.

If answer is yes, ask for the sire and dam's registered name (spelling is important) and AKC number and verify on the OFA website. Ask if all four grandparents have also had their hips x-rayed and been certified free of the disorder.
If answer is no, decline to buy their puppy. Hip dysplasia is a degenerative disorder but can be diagnosed as early as six months of age. Hip dysplasia can be a painful and crippling disorder that in some cases can be treated by expensive surgery.

3. Have the dam and sire been tested for sebaceous adenitis (SA)? Is there any history of sebaceous adenitis in close relatives of the sire and dam?

Answer from Tiara Standard Poodles:
We have been testing with skin biopsies mailed out to the lab of the moment since 1990; for 6 generations+. If you have exact spelling (and/or AKC #) of sire and dam, go to www.offa.org and see the certification info for sebaceous adenitis.
The Tiara Poodles have been certified free of sebaceous adenitis since 1990 when the study at the Univ of Michigan began with Dr. Dunstan. Over the years, the two affected cases related to our dogs were descendents of the of the Tiara "U" Litter of 1987. In addition, in a more recent skin punch submission, a subclinical case was determined in an "A" Litter member born 1991 (with no clinical signs/and a 1998 submission). In these few cases of hundreds of dogs produced, no apparent hair loss was readily evident and was confirmed only by microscopic evaluation. This disease is widespread; it is seen throughout the Standard Poodle gene pool around the world. We will not be surprised if it occurs again in our dogs, but we will certainly be disappointed. We have worked diligently to avoid this disease and the other common ailments seen in Standard Poodles.

If answer is yes, that they have been testing their dogs, ask to see the proof (via OFA database as noted above). If the answer is no, they have not tested the parents for SA, then decline to buy their puppy. SA is a skin disorder that causes hair loss, and skin flaking and thickening. The dog with this disease usually has an odor and must be bathed weekly to maintain decent skin health. There is no cure. The dog can also have a subclinical form of the disease and that can only be determined with the proper testing. Do not buy a puppy from a parent that has tested as subclinically affected with SA.

4. Have the sire and dam been tested and certified by DNA analysis for von Willebrand's disease (vWd) which is a bleeding disorder? DNA analysis for Juvenile Renal Dysplasia (JRD)? DNA for parentage for their pedigrees with AKC and/or UKC? The only true genetic testing for a disease is tested via DNA analysis. Few breeds today have any DNA tests at their disposal. All other health testing for genetically-transmitted disorders is simply a screening of what the dog tests on that day and should be referred to as a health screening, not genetic testing. Don't ignore the misleading term; it could subconsciously give you more confidence if you believe that the hips have been "genetically" deemed clear. There is no genetic test for hip, thyroid, eye, SA or cardiac disorders. Again, unless the test is a DNA analysis, it is a health screening.

(long) Answer from Tiara Standard Poodles:
Yes is the reply to all of those questions. No affected or carrier VwD poodles have been found/produced by Tiara to date. Over 30 Tiara Poodles have had their DNA tested since the DNA test procedure for this (vWd) test became available in 1998 from VetGen. These dogs' test results have been posted to the OFA database; this follows our test-result –information-shared policy. All breeders of standard poodles should have this test done on the individuals they plan to mate if the status is not known or is not known/posted publicly. This DNA test for vWd was the first actual GENETIC TEST available to Standard Poodles for a health concern; because it is a test of the DNA molecules, it is an actual genetic test for an inherited disorder. There is no excuse to breed a litter of Standard Poodles without this DNA test accomplished first on the parents to learn their status concerning the disease and thus determine that the puppies will not be affected by the disease (never breed carrier to carrier of this disease). The test can be given after 10 weeks of age. The cost varies, but is usually just $99.00 through the effort of a gathered clinic and information about a clinic can be found out by calling VetGen (number and more information at www.VetGen.com ). If the sire and dam test CLEAR or are clear due to each of their parents being clear, than it is known that, the puppies are also clear of the genes that produce this disease.
The JRD testing was just made available to conscientious breeders and owners of (all) Poodles in June of 2007. In Standard Poodles, it is believed that 80% of the gene pool is carrying for the disease. To date, we have tested over 40 Tiara Poodles. Our percentage of carrier status is roughly more like 45% of the tested dogs. Offspring from two clear parents do not have to be tested and we have also produced litters of completely JRD clear that are not included in that mentioned 45% total. In our continuing effort to not knowingly contribute to the expression of this disease, we will not breed two carriers to one another now since the test has been made available. To date, we have not produced a dog with this disease. There are disputes about the validity of this DNA test among various Poodle groups. We believe in the science available now and will utilize the information learned from the test to select our stock in hopes to produce clear status only by 2011. If the breeder you are interviewing does not know about this test, or if you would like to know more, please direct those interested to www.DoGenes.com If the breeders, of a puppy you are checking out, show no interest concerning this test, my suggestion would be that you weigh that situation heavily...
All of our dogs used for breeding over the years, when possible (and that is nearly each one born since 1984), have had their DNA certified for parentage with the AKC and/or the UKC and have also been positively identified by tattoo or microchip. What that means is added value; the dogs are who we say they are, and that information is scientifically verified. "You are the Daddy!" Sadly, there is no requirement that this testing is done on the parents of each and every litter for the protection of the AKC and UKC pedigree value. It is strongly suggested that this test be performed by the registries through a voluntary program and we understand and respect the issue. In cases where a male has produced a certain amount of litters, it is then required to have the DNA for parentage already run before a litter will be certified by AKC (see: www.akc.org more than 7 litters in lifetime or more than 3 litters in a year is than mandatory DNA testing ) . Here, at Tiara, nearly all of our dogs have had their DNA profiles for parentage certified by AKC and/or UKC and that information has been submitted to post on their website (along with a photograph) on the all-important OFA database (www.offa.org) .
Note information concerning Canine Health Information Center (CHIC) certification by the OFA database - http://www.tiarapoodles.com/healthconcerns.html
To date, the Tiara Standard Poodles, through the great efforts of the breeder and the owners, have produced over 50 CHIC designates throughout the United States, see them listed here::
http://www.tiarapoodles.com/chic.html .
Note the current CHIC statistics about North American Poodle breeders who are making the effort: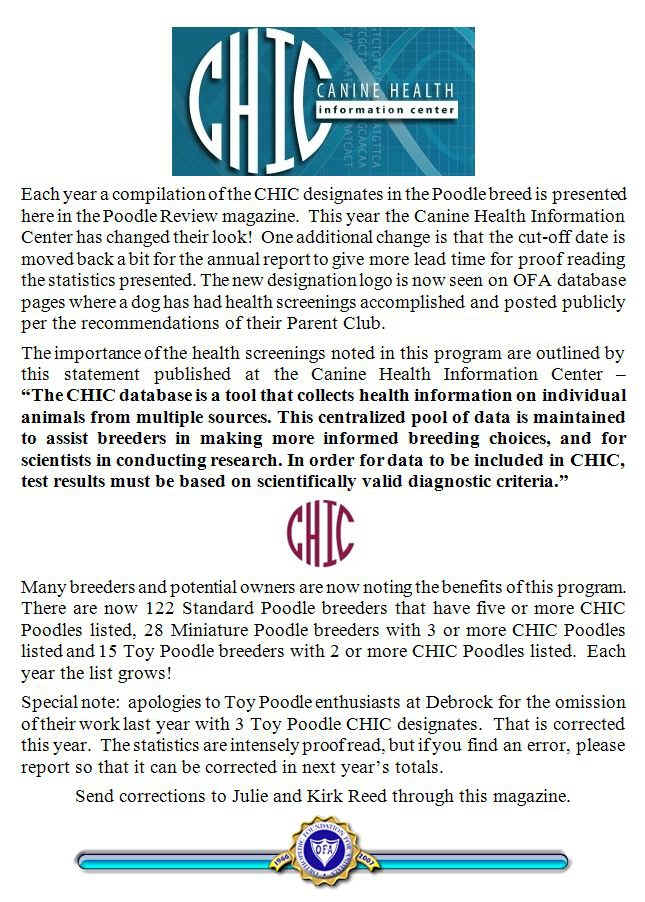 If the breeder you are researching, doesn't at least make that list, or is very low on that list, consider also weighing that information very heavily. Check to see if dogs in the pedigree are designated CHIC. A breeder not performing health testing, but producing Standard Poodles is doing so at great, selfish risk to the gene pool and a breeder that is testing and not publicly telling is just not doing any favors for the breed.

5. Has there been any occurrence of bloat or gastric torsion, seizure, epilepsy, diabetes, thyroid disease, hemolytic anemia, allergic skin diseases, thrombocytopenia, allergic gastroenteritis or Addison's disease in the sire or dam or their relatives? These problems can be hereditary and seem to be more prevalent in some lines.

Answer from Tiara Standard Poodles:
Tiara Poodles would not mate dogs that exhibited the above disorders. In very few cases relatives are known to have been afflicted with Addison's disease or bloat. Old age mitral valve insufficiency and old age splenetic disorders could be noted in a few cases over the age of 10 years as well.
We can test for Thyroid disease and register the results with the OFA (www.offa.org ).
We have adjusted our husbandry practices significantly over the last 15 years to conscientiously do the least amount of harm to the immune systems of the dogs in our care. You can read discussion concerning those efforts on our ABOUT TIARA STANDARD POODLES page. http://www.tiarapoodles.com/about.htm Addison's disease is deemed polygenetic and most likely more of the above disorders also take several genes coming together to have the disease heritable. From my many years of in depth experience with Standard Poodles, a dog's temperament and how they handle their environment(s), change of routine and other stress due to immunizations, wormings, and just any everyday stress, play an important part in the expression of these diseases noted above. Addison's disease is thought to be carried in the genetic make-up of 75% of Standard Poodles; more than any other dog breed per a study at the University of California Davis . Addison's disease and bloat (gastric torsion) are the two most important illnesses we are breeding and rearing our dogs to avoid here at Tiara.

6. Ask to look at the whelping room and puppy areas. Note total environment.
Record and answer to each of the following:

Is everything clean?
Do puppies have toys to play with?
Do puppies have fresh water?
Do puppies have room to exercise?
Are puppies clean and groomed?
Look at as many relatives as possible!
(Note: Weeping tear-stained eyes are not normal)
Are they friendly and outgoing; wanting to meet and show off for you like good Poodles?
Are they apparently healthy?
This may be your only insight into your puppy's temperament and overall quality.

Answer from Tiara Standard Poodles:
Tiara Poodle puppies are the fruits of years of labor, experience and concern for the breed. Tiara Poodles are fed a healthy, all-natural diet and vaccinated on a holistic schedule. Vaccines are not started until 14 weeks of age. Puppies produced here have had negative fecal analysis for internal parasites for two generations now. Julie Borst Reed, Breeder, has raised the Best Std. Poodle Puppy at the National Poodle Show on 3 occasions! Tiara Poodles have also been reared to perform brilliantly in agility, as assistant dogs, therapy dogs and in amusement park shows.
The first few weeks of the pups' lives finds the breeder by their side nearly around the clock; actually sleeping by them! We recommend you meet the mother dog (known as dam) of the litter you are considering and make certain she likes to please, comes when called (off leash), and is friendly with all she greets, for you to determine more closely the impact she's had rearing your new puppy.

7. Ask about the breeder's older dogs and their life expectancy. Standard Poodles should live 11 to 15 years.
Answer from Tiara Standard Poodles:
12 to 14 years – we are currently combining these two lines developed. By reducing the coefficiency seen in our inbreeding levels to under 6%, as recommended by the top scientists that have studied such things, we are statistically suppose to note greater longevity. We certainly see a noted improvement in overall health so far since our mission on this began in 2002. It was stated by Dr John Armstrong that a dog with inbreeding at the level (COI) of 25% (determined at the 10th generational level) is statistically going to live 3 years less than a dog with the inbreeding level of 6%. This is important.
You can determine COI levels for 10 generations to use as an important comparison of puppy choices when shopping. Go to www.poodlepedigree.com Sign in (it's free and bug free). Use your actual e-mail address as the Login and make up your own password. Over 130,000 Poodles' pedigrees from all over the world are in the database. If you have a pedigree that is not included, please add the dogs. Start by searching for the sire – is he in the database? If not, add him – make certain to use exact spelling. Check to see if the dam is in the database, if not add her. Then start by checking to see if the sire's sire is in the database and add him if he is not. You may not need to enter any dogs, or you may need to enter many dogs from the pedigree you are investigating.
Once you have all of the dogs you can locate entered in the database until they connect with the rest of their pedigree already in the database (it WILL happen! Ask the breeder to assist you and or write to the owner of Poodle Pedigree, Karen Mills, for assistance). You want to make 5, hopefully 10 generations; the more generations included, the more you can learn. Ten generations is the goal and under 6% the desired number per the scientists that study canine reproduction/longevity issues. You can enter a dog in the test breeding section (not it's relatives – they have to be officially in the database – but one you may be considering) and on most Sundays the Poodle Pedigree database is shut down so that it can process the Wright's coefficient of inbreeding on all of the pedigrees in the database. Once the database has processed this work, you will then be able to go view the "Genetic Information" for that pup you had in mind. At Tiara Standard Poodles, we always give you a link to the dogs' pedigree information on PoodlePedigree.com. There is no guessing here, we take our dog breeding very seriously.

8. How many years of experience does the breeder have?
Answer from Tiara Standard Poodles:
Breeding an average of three litters per year since 1976.

9. How many litters a year do they produce and for what reason?
Answer from Tiara Standard Poodles:
Partially answered above. Tiara Poodles are bred to produce the best all-around Standard Poodle; to provide deserving owners with a devoted, healthy pet of incomparable temperament. We appreciate the breed and are not here to change it (we prefer the healthier outlines seen of the Nine-teen Eighties style of type – better fronts and not so much exaggeration of neck carriage in the wrong, held back arch which is actually a weakness termed ewe neck). We want to enhance the varieties athleticism and longevity and give the best individuals to the gene pool that we can. Our dogs regularly compete in a variety of sanctioned venues where their temperament, conformation and willingness to please are judged some of the finest. Our commitment to excellence and our dogs' ability to continually prove that we are breeding along a very good path is our creed.

If the answer above is "for the money," walk away. People breeding for just the money or stating they produce one thing (Poodles for hunting or assistance for instance) but producing litter after litter that no individuals are tested for that particular "thing" (or even go to hunt/assist homes), most likely do not have the welfare of the breed as a priority. Also, if not accomplishing verifiable health testing in addition to not comparing their stock in any type of formal competition or actually producing dogs that go to do benefit for man in any way (hunting, therapy, service dog, entertainment, etc.) than they are just using the dogs and not providing (proven) better dogs for the gene pool or the general public. Please do not further their impact by buying a puppy from this type of puppy producer. The Standard Poodle gene pool is already weakening and according to some, once the average inbreeding coefficiency reaches 22% (and others state 25%), the inbreeding will have crested to the point of no return – without outside blood (and that is one of the reasons we are very fortunate to have varieties within our breed unlike many breeds in the same desperate condition of over-inbreeding due to a closed pedigree registry and popular sire syndrome).


10. Is the breeder willing to take the animal back if you can no longer keep it?
Answer from Tiara Standard Poodles:
Absolutely - Yes
Breeders do have a responsibility to the animal's welfare even after the puppy is sold.

Ask for at least three references from people who own puppies purchased from this breeder. Ask each about their dog's health and temperament.

NAME PHONE # or E-MAIL ADDRESS
1.

2.

3.
Additional information -
Take your puppy to your veterinarian within 48 hours. Your puppy should be examined thoroughly. If problems are found return puppy immediately to the breeder with the veterinarian's report. The breeder should be willing to guarantee the puppy's health for a specified time and per most states' law you should be given at least 48 hours plus Sundays and holidays.

Genetic testing and health screenings are done to help breeders avoid passing on genetically transmitted diseases and anomalies. There is no line of living creatures totally free of genetic problems, including humans, but the incidence of problems can be markedly decreased by careful and selective breeding. Take each of these points into consideration when choosing your next Standard Poodle.


Note: There is no such thing as a registered Royal Standard Poodle. The term is used as a marketing gimmick to imply that your puppy will grow extra large. There are some breeders ignoring the problems with the overly tall Poodles and yet still produce them along with the many health problems that give these giants a shorten lifespan. A Standard Poodle is a Poodle that will measure over 15 inches tall at the shoulder. In the FCI, the European pedigree registry and show scene there is actually a limit of 24 or 25 inches tall, The average Standard Poodle in North America is around 22- 23 inches tall at the shoulder for females and 25 ½ - 26 ½ inches tall at the shoulder for males. Weights for females are 40 to 58 lbs and males range from 48lbs to 65 lbs. It is best to ask the height and weight of the parents of the puppy you are considering. At Tiara, we often have smaller Standard Poodles available because we are rebuilding our foundation and have utilized miniatures with some of our pedigrees (not all). Other breeders refer to these as Moyen or Klein because these are terms in Europe . Perhaps some of their stock is this size from Europe and that is well and good. Our Poodles in the 17 inch to 21 inch range are not from the smaller dogs of Europe , but from health tested AKC miniature Poodle lines. We were instructed by Dr John Armstrong, geneticist professor at the Univ. of Ottawa , to refer to the smaller Standard Poodles that we often produce, as Smaller Standard Poodles.

Showing dogs, as in many other sports, has started to lose the heart of its intent, especially in venues where artificial substances are used to enhance the entries. There is an all-encompassing need to win at any cost. Professionals brag how they can make a silk purse out of a sow's ear type of thing. Unfortunately, its the welfare of the dogs and even the exhibitors' own families at times that suffer. To achieve goals you must be focused, but as respected judge Jim Clark once wrote on this subject, "you also must be well-rounded." There seems to be more harmony in the family when everyone is involved or able to be happy for the person accomplishing great strides with their dogs. At Tiara Std Pdls, both Julie and Kirk Reed work very hard each day in the care of their dogs. It is a wonderful team effort and the dogs shine because of that bond.

So hopefully your new puppy will come from an environment where quality not quantity mattered, and where how well a dog looked counted as much as whether he came when he was called. Where dogs ate happily on their own and were not force fed to the appearance of a healthy appetite in the showring (this is a matter I believe should be looked into by humane authorities). And also, where the dogs in the show pictures first sent to you are the same color as when you met them in person. Oh yes, "color enhancing," as it is called, could be easily tested for as is done at dog shows in England . But, perhaps trying to avoid lawsuits, the AKC looks the other way as weekend after weekend the "Lady Clairol" runs around its showrings – especially on the darker dogs. There are many other important issues to concentrate on when breeding dogs than just color. But, is that fair if you are the consumer looking for a particular color? I know as a breeder looking to breed a particular color (jet black), it has taken years to know who to trust with their representation of black. But, it has also taken my breeding program over 20 years to reach the point that color mattered.

Again, there are so many other concerns that come first. Make certain that the puppy you bring to your home has several generations tested and certified for the most common genetic defects of its breed through DNA testing and health screenings of the close relatives as well. The reports should be noted at www.offa.org. Breeding without testing the sire and dam should be considered an injustice as long as so many puppies are produced in this country without ever having a chance at even a mediocre home. And just before health concerns is the importance of a sound temperament. In each breed you find good and bad representatives. This is your dog for the next decade or more – take the time, make the investment in a stable dog from well-tested stock, with lower than average inbreeding. Dogs that will be welcome anywhere are a benefit to dog lovers everywhere having a chance to keep dogs as pets in the future. After all your research, if you follow these guidelines, you will know that your dog will be a benefit to the breed's reputation as well as his litter a benefit to the gene pool for the variety.

In the Standard Poodle Variety of Poodles, tracing a top sire of the 1970's back to 1928, I lost count at just over 200 crosses to a dog named Clown. How incredibly tightly bred the lines already are I thought and this task I performed in the early Nineteen-Nineties! So, of course that experience is probably approaching double the count on a top POPULAR sire of today. It is my experience that the time is now to stop the high level of inbreeding. It may look like linebreeding, but if the average inbreeding in Standard Poodles, which is currently around 20% (10 generations), crosses that 22% or 25% mark, well . . . . Things are already not ever going to be the same, but perhaps you can help our breed by selecting from a breeder producing puppies with a 10% COI or less.
Happy Poodle Shopping! You are now armed with the correct questions and you can compare answers. By you taking the time to read, study and implement this page of information and its links, you will have the opportunity to enhance the Standard Poodle gene pool. How? Well, not just by purchasing your new dog from a proper Breeder, but by asking the questions of the breeders you may bypass – hopefully they will learn about better breeding from you! If the concerned shopping public learns to be better shoppers (and that ever-growing OFA database is going to truly have a very good influence on their ability – in all breeds), than those that wish to be better Breeders will be boosted into becoming such because the public is demanding better dogs as companions. Much of what is listed above in the questionnaire is what separates a breeder from a "miller." It comes down to quality of care and the ethics of the mission.