TIARA "U" LITTER 2006

Tiara "U" Litter born 4/21/06 AKC & UKC
1) 2:47 am Male "UDELE" (Anglo - rich or prosperous), 9 oz.s
TIARA U SAY U WANT A REVOLUTION
2) 3:33 am Female "ULRIKA" (Old German - female wolf ruler), 9.5 oz.s
TIARA U CAN TALK TO ME
3) 4:02 am Male "UDOLF" (English - prosperous wolf), 9 oz.s
TIARA U TWIST SO FINE <with a real birth story!>
4) 4:11 am Male "ULMER" (German - wolf), 9 oz.s
TIARA U CAN DRIVE MY CAR
5) 5:02 am Female "ULMAY" (Turkish - hope), 8.5 oz.s
TIARA U KNOW U LOOK SO GOOD
6) 5:30 am Male "ULRIC" (Scandinavian - wolf), 8.5 oz.s
TIARA U DON'T KNOW HOW LUCKY U R BOY
7) 6:48 am Female "UMIKA" (Hindi - goddess), 8 oz.s
TIARA U BEGIN TO MAKE IT BETTER
8) 7:21 am Female "UNATTI" (Hindu - progress), 9 oz.s
TIARA U HAVE ALWAYS BEEN MY INSPIRATION
9) 7:42 am Female "URANIA" (Greek - heavenly, muse of astronomy), 8.5oz.s
TIARA U WANT TO KNOW A SECRET
Sire:
"Allegro"

CHIC
standard to standard breeding
AKC and UKC. U-CH Romeo's Solo de Belcanto Allegro just started showing with

Tiara

the first

weekend of March

2006

. He is now a UKC champion

.

At the time the puppies were born, he is

competing for his Grand Championship. He is a wonderful, calm dog with outstanding character and a loving soul.

Allegro is beautifully bred with a very low inbreeding ratio pedigree.
Dam:
"D'Aire" (AKA DeDe)

CHIC
miniature/standard combination
AKC and UKC. UWP, GRCH Tiara
D'Aire
,

this will be her second litter. D'Aire was the only Standard Poodle with a performance title

(United Weight Puller)

, thus determining her a "Total Dog" in the UKC Conformation Top Ten

for the breed

in 2003. She has a Reserve Best In Multi-Breed Show win to her credit and is out of one of the top dams

that is also known for

winning

at

agility competitions .

In addition to her

weight pull title

, she has

legs in AKC and UKC agility

that

she obtained last year and then her trainer (

Julie

) was injured.

Plans are

to

continue, but right now she has some promising puppies

that she is thrilled to raise

!

"

Dede is the easiest dog to communicate with that I have ever trained.

S

he is VERY willing

-

to

-

please and a
'

perfect
' sleeper when she curls so peacefully next to you in bed. A real wonderful girl

," says owner/trainer/breeder Julie Borst Reed.

This link above is link to pedigree for D'Aire to Allegro

born 4/21/

2006
10-generation COI
1.17%

12-generation COI
1.96%


AKC & UKC registered litter
Tiara "U" Litter 2006 ~ Our 30th Year
We had the U letter names picked out for the puppies before they arrived. We did this because U names do not just come to U – especially the third time U have a U litter produced!!!
Also, to go with our Beatles theme, we had many, many lines of lyrics that utilized the word U, selected ahead of time.
The first born arrived after about an hour of labor. We placed a mark on his head. The mother, or dam as she is known, is Dede our lovely and talented, do everything right lady ~ UWP, GRCH Tiara D'Aire. You can see her birth page by going to Recent Litters – And then select the D litter.
When Udele entered the world, he did so with confidence. He seemed a leader and thus his registered name. He is the first born, Tiara U Say U Want a Revolution We heard his warning . . . . "There are more of us coming!" Our quiet household, void of baby puppy yips since last summer, was about to witness a welcomed invasion.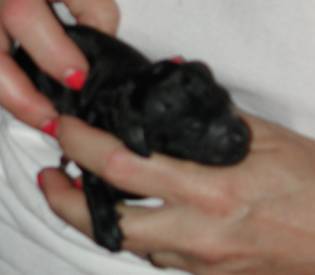 "UDELE" TIARA U SAY U WANT A REVOLUTION FIRST POSE 4-21-06 born 2:47 am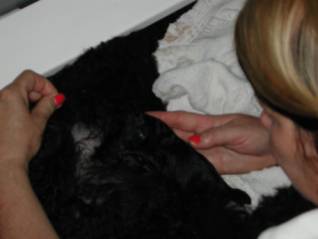 "UDELE" TIARA U SAY U WANT A REVOLUTION FIRST MEAL 4-21-06 birth weight 9 oz.s
---
We were happy to meet this girl next, who came out "talking" and looking for her first meal. "Ulrika" has the registered name of Tiara U Can Talk To Me - just try to read these names without

breaking into song! If you know Beatles lyrics, you will be singing in no time! Udele would not be lonely now with the company of Ulrika.

We placed the mark on her shoulders (withers). She was born breech.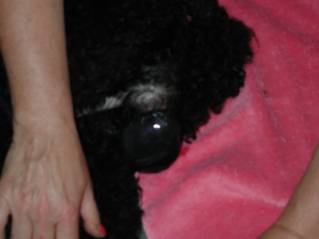 "ULRIKA" TIARA U CAN TALK TO ME BIRTH 4-21-06 3:33 am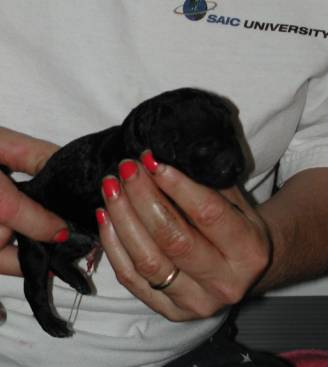 "ULRIKA" TIARA U CAN TALK TO ME FIRST POSE 4-21-06 9.5 oz.s
"ULRIKA" TIARA U CAN TALK TO ME FIRST MEAL 4-21-06
---
The biggest character of the litter – "Udolf" Tiara U Twist So Fine –first picture shows his arrival just before his amniotic sac gave way. Once it did, it exposed the fact that this baby was breech too! Unlike his elegant sister born the same way before him . . .. he put on a show. He twisted himself out backwards and at one point, <we will never forget this picture in our minds, but we didn't take an actual photo to share, we were helping his birth> only his lower torso was free and his rear legs were kicking vigorously as his hips were rotating – twisting! In his pose picture, also below, he looks pretty smug! A big character indeed. We placed the mark in the middle of his back.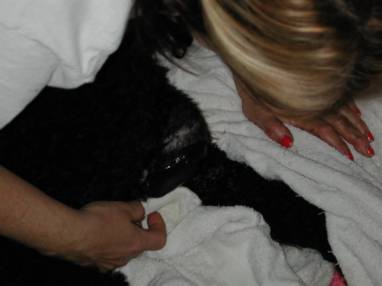 "UDOLF" TIARA U TWIST SO FINE BIRTH 4-21-06 4:02 am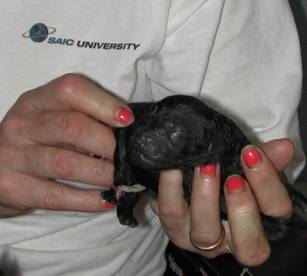 "UDOLF" TIARA U TWIST SO FINE FIRST POSE 4-21-06 birth weight 9 oz.s
---
After the last birth, "Ulmer" Tiara U Can Drive my Car arrived in a calm fashion, quite well under control and we felt he deserved this name of trust. We placed the mark on his tail.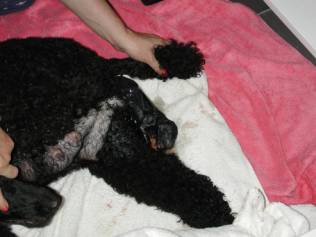 "ULMER" TIARA U CAN DRIVE MY CAR BIRTH 4-21-06 4:11 am
"ULMER" TIARA U CAN DRIVE MY CAR FIRST POSE 4-21-06 9 oz.s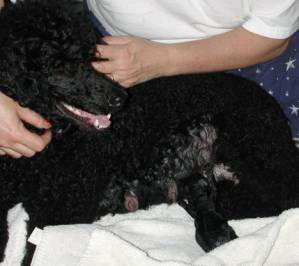 "ULMER" TIARA U CAN DRIVE MY CAR FIRST MEAL 4-21-06
---
We took our only rest between puppies – often it seems that there is a break between the two "horns of the uterus" when a bitch is whelping. I think we placed our heads on our pillows for an entire 10 minutes when we heard the mother leave the box and her 4 newborn puppies to get away for a delivery – usually I am right there and place the newborns out of the way in their own private bassinette while a delivery occurs. We were up in an instant and happy to see there was another girlie – "Umay" Tiara

U Know U Look So Good a fine looking Poodle delivered while mother was standing – the midway puppy we would learn. We marked her right hip.

Just after the birth shot below, Dede swung around to go back to her box and as she did . . . . lots of fluid was released and landed no less than an inch from the opening of my slippers that I had removed when I jumped into bed for a rest! LUCKY Me! More caffeine! No more resting! Welcome puppies. xox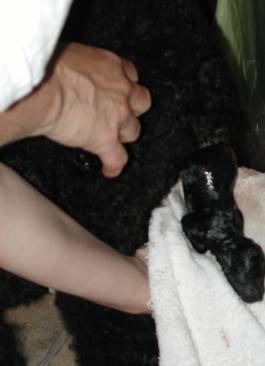 "UMAY" TIARA U KNOW U LOOK SO GOOD BIRTH 4-21-06 5:02 am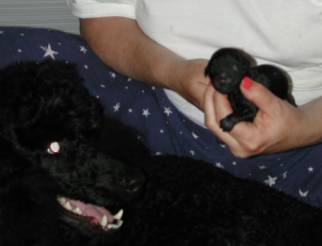 "UMAY" TIARA U KNOW U LOOK SO GOOD FIRST POSE 4-21-06 8.5 oz.s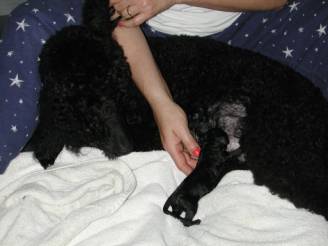 "UMAY" TIARA U KNOW U LOOK SO GOOD FIRST MEAL 4-21-06
---
I put my shearling slippers back on thinking how lucky I was to still have them at my service and lucky to have such beautiful, healthy puppies and lucky to have my husband bringing me my steady supply of caffeinated drinks which I had stockpiled for the occasion and lucky he loves the Poodles just as much as I do and I was sure to acknowledge all his assistance and I told him all that while he was busy taking notes and pictures. We know we are lucky for so much and are thankful.
And the next fellow, born easily onto a fluffy towel and assisted to the "dining area" immediately was one of the lucky ones too – "Ulric" Tiara U Don't Know How Lucky U Are Boy We marked his left hip.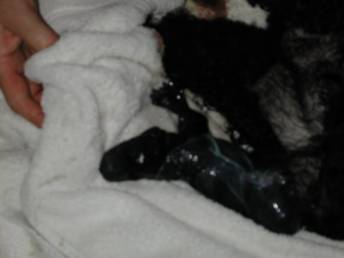 "ULRIC" TIARA U DON'T KNOW HOW LUCKY U R BOY BIRTH 4-21-06 5:50 am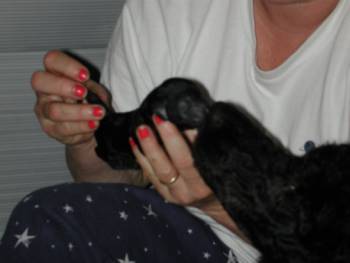 "ULRIC" TIARA U DON'T KNOW HOW LUCKY U R BOY FIRST POSE 4-21-06 8.5 oz.s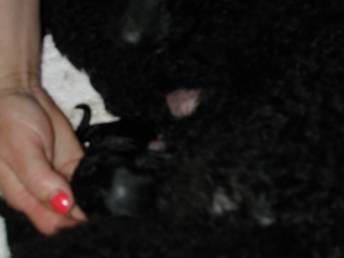 "ULRIC" TIARA U DON'T KNOW HOW LUCKY U R BOY FIRST MEAL 4-21-06
---
At this point, boys out-numbered girls 4 – 2 and it is much nicer to have a balance between the number of males and females when offering them to good homes. We have had quite a few litters dominated by males – a couple completely all-male litters. The balance is preferred. At this time, the mother was content and was not having noticeable contractions.
I had palpated Dede and felt at least two probably three puppies to go. I got on the Internet in the next room and quickly wrote to the good people on the TiaraPoodles e-mail list - THINK GIRLS I begged! I didn't wait for replies. I phoned Jenny Peckham, owner of Dede's sire and invited her to come by if she still wanted to help. I told her THINK GIRLS! She arrived from downtown just in time to see this darling baby of the litter arrive, "Umika" Tiara U Begin To Make It Better And she did, it was now 4 boys and 3 girls. We marked her chest. Still unbeknownst to me, the e-mail was posting in a flurry on our TiaraPoodles owner's e-mail list from across the USA – all good thoughts for girls! Thanks gang!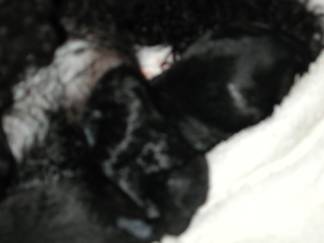 "UMIKA" TIARA U BEGIN TO MAKE IT BETTER BIRTH 4-21-06 6:48 am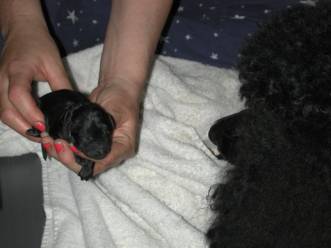 "UMIKA" TIARA U BEGIN TO MAKE IT BETTER FIRST POSE 4-21-06 8 oz.s
---
"Unnati" Tiara U Have Always Been My Inspiration arrived just after breakfast was served to the humans – we missed the birth picture, but did get this, the cutest set of pictures to share. Another girl – now this was terrific – 4 males and 4 females - a beautifully balanced litter of extremely healthy whelps. We marked her right side.
"UNNATI" TIARA U HAVE ALWAYS BEEN MY INSPIRATION WEIGHS IN AT 9 oz.s 4-21-06 BIRTH 7:21 am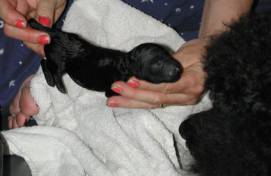 "UNNATI" TIARA U HAVE ALWAYS BEEN MY INSPIRATION FIRST POSE 4-21-06
---
Our grand finale was another girl – the girls now out number the males by just one. And this was a very pretty one too! We were still eating breakfast (yes, I was eating breakfast in the whelping box – I did wash those hands first! You may imagine why I skip the manicurist BEFORE delivering puppies – apologies, the close ups are a bit REAL, but that is what we are about). This character, I believe is perfectly named. We marked her left side. Thrilled is what we are about this litter. Not one puppy had difficulty breathing or nursing right from the start. We did have two breech births, (#2 and # 3), but they handled it well.
Thank you daddy Allegro and mother Dede.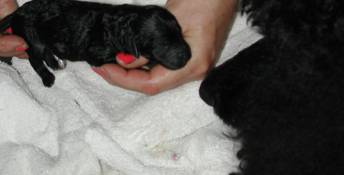 "URANIA" TIARA U WANT TO KNOW A SECRET FIRST POSE 4-21-06
TIME OF BIRTH 7:42 am BIRTH WEIGHT 8.5 oz.s
PUPPY TO DAM – "NICE WORK MOTHER – THAT'S NO SECRET!"
---
Puppies Get First Official Visitor!
Jenny, owner of maternal grandsire, loves sharing the excitement of the newborns. Here she is giving Dede a well-deserved lower back massage. Dede is busy with the brood. They are all pictured in one of the whelping boxes we will provide Dede to raise the litter the first 3 – 4 weeks. We have a second one in our living room and a third in my office at work. The puppies have a great new adventure ahead!
<We didn't mark Jenny!>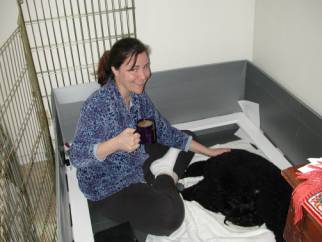 ---
That night Dede fell into a deep sleep and I assisted throughout the night by making sure the puppies stayed in a nice tight circle around her . . .
Dede was dreaming . .. . about a less hectic time . . . on her little Jolly Roger on Mission Bay . .. .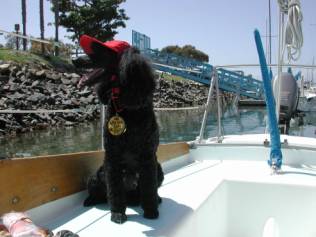 When she was the pampered instead of the pamperer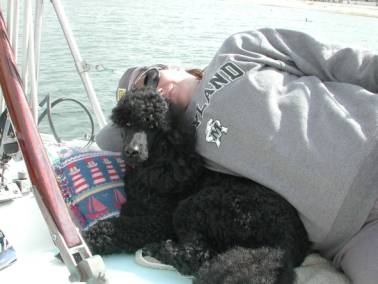 although happy to be responsible . .. Her dreams took her back to that time . ..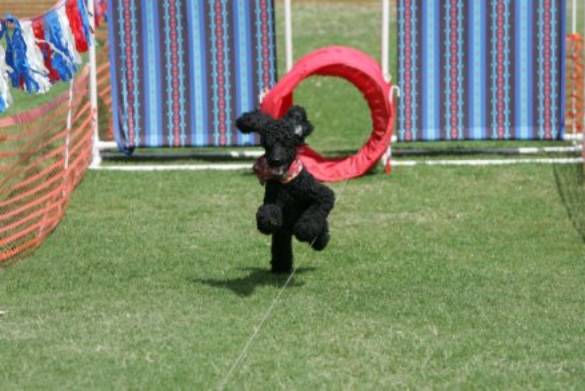 And she wondered . . . . could she be back in
shape by July for her favorite sport ? Course 'A Lure that is pure joy! . . . .